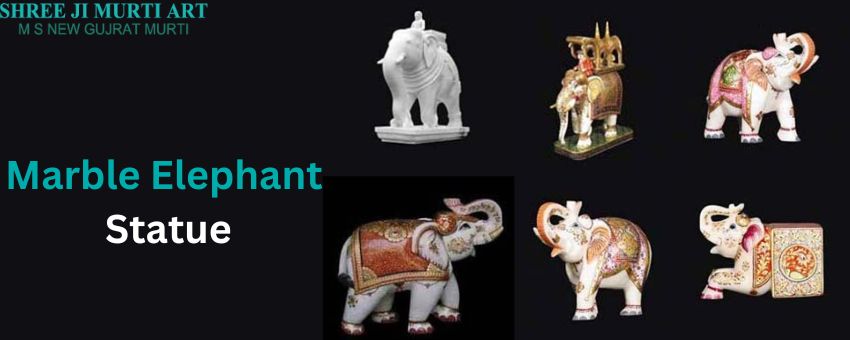 For generations, artists and lovers have been enthralled by the magnificent grandeur of marble. The marble elephant statue, one of the numerous works of art made from this wonderful material, stands out as a symbol of grace and strength. We will examine the importance, artistry, and continuing attraction of these beautiful statues from Marble Elephant Statue Manufacturers India.
The Allure of Marble Elephants: A Symbol of Power and Wisdom
-
Marble elephant statues have long been seen as potent representations of strength, knowledge, and wealth. Many cultures retain deep religious and cultural meaning for these majestic creatures. As an example, Lord Ganesha is associated with elephants. He is the Hindu deity of new beginnings and learning. It is thought that they bring prosperity and blessings into homes and temples.
Craftsmanship: Sculpting Beauty from Stone
-
A marble elephant statue requires exceptional skill and precision to build. Intricately chipping away at the stone, master carvers unveil the outline of the majestic elephant. Because of its lifelike features, intricately sculpted curves, and smooth surfaces, the statue appears to be moving. This demonstrates the artist's talent and dedication.
Enduring Beauty: A Testament to Timelessness -
Elephant statues made of marble are recognised for their enduring appeal. Whether they are placed in traditional or contemporary settings, these sculptures meld perfectly with their surroundings. They emphasise splendour and sophistication. These sculptures are timeless and appreciated by all ages because of the timeless beauty of marble.
Versatility in Design: From Classic to Modern
-
Elephant sculptures made of marble are adaptable works of art with a broad range of design options. Traditional artwork usually depicts elephants in majestic stances that highlight their power and beauty. On the other hand, newer iterations could investigate abstract forms or make use of contemporary topics. They can do this without sacrificing the unique characteristics of these lovely animals.
Enhancing Interiors: A Statement of Elegance
-
The room is immediately improved and emanates elegance and refinement when a marble elephant statue is added to the interior design. When these sculptures are displayed in a living room, study, or workplace, people pay attention to them. The marble is elegant because of its cool, smooth surface. The elephant's dominating presence also exudes a sense of strength and stability.
Cultural Appreciation: Embracing Diversity -
Not just in their own nation but also in many other countries, marble elephant statues are cherished as cultural icons. Due to their ability to transcend cultural borders, these sculptures are now highly valued pieces of art in several countries. They are cherished and revered for their timeless beauty, as evidenced by the fact that they are included in both public and private collections all around the world.
Caring for Marble Elephants: Preserving Magnificence -
A marble elephant statue has to be maintained and cared for properly to survive for a long time. Regularly dusting and wiping down surfaces with a soft cloth is necessary to get rid of dirt and prevent the accumulation of debris. Keep the stone away from extreme temperature changes and bright sunlight as well. It guards against fading and preserves the quality of the cloth.
A Marble elephant statue is the perfect fusion of artistic expression and symbolic significance. Their timeless beauty, flexible patterns, and representation of power and wisdom make them enduring complements to any space. These exquisite artworks have left behind them treasured images of beauty and refinement. It thrives because they keep captivating the thoughts and feelings of art enthusiasts everywhere.
.